I am the creator of Digitalfire Insight, the Digitalfire Reference Database and Insight-live.com. ... more I have made hundreds of posts like these on my Insight-live Facebook and Plainsman Clays Facebook pages. My posts are like no others, they help you understand your glazes and clay bodies, take control. A master timeline can be seen at Digitalfire.com or visit and like my pages to get a notification each time I post.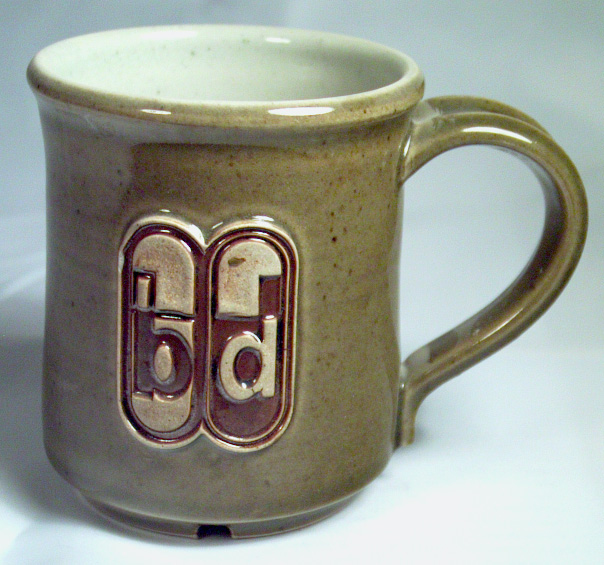 Example of a logo done using a polymer plate
Polymer plates are used in letter press and can still be purchased online (e.g. boxcarpress.com). Just create the artwork in a vector graphic drawing program and upload it to their website. Press it into a thin slab (using some sort of oil as a parting agent) and then attach that using slip to the
... more
Context: Iron Oxide Red, G1947U - Cone 10 Glossy Transparent Base Glaze, 77E06B - Plainsman Celadon Cone 10R, Polymer plates. Great for stamping into clay., Celadon Glaze
Thursday 17th August 2017
Polymer plates. Great for stamping into clay.
These are samples made by Boxcar Press. They make different depths, you need the 0.047 relief depth. While the others will press a crisp design into the clay, the shallow depth will make it difficult to avoid rubbing out the color from the recesses when you a sponging it off the top. Traditionally
... more
Context: Example of a logo done using a polymer plate
Thursday 17th August 2017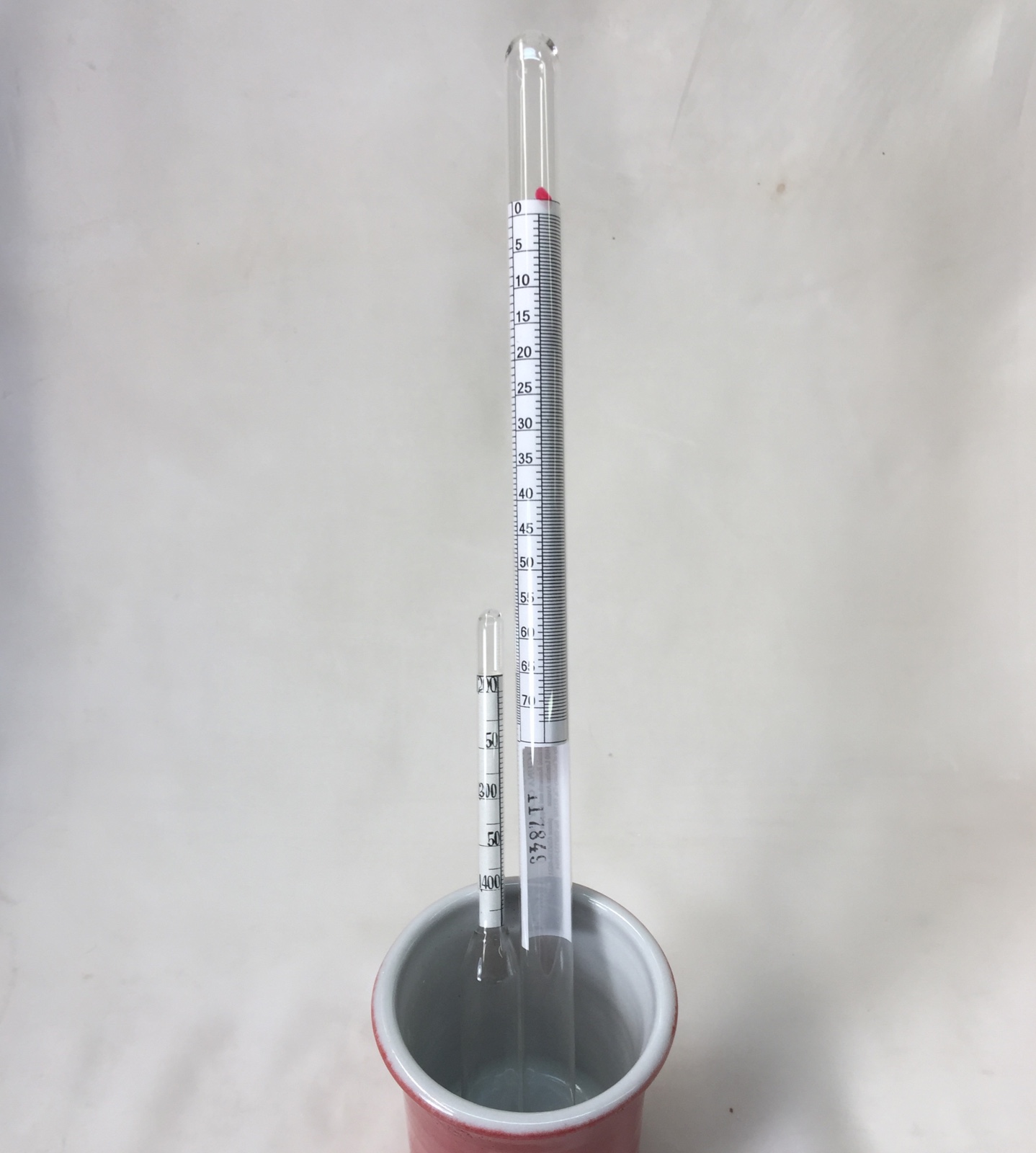 Measure glaze specific gravity with these? Forget it!
Glazes need to be gelled, have thixotropy. That means these things won't bob up and down to find the right place. The one on the right is completely useless, the scale is too wide. Most glazes need to be between 1.4 and 1.5 specific gravity (40-50 on this scale). That is like reading seconds on the
... more
Context: Specific gravity, Deflocculation
Wednesday 16th August 2017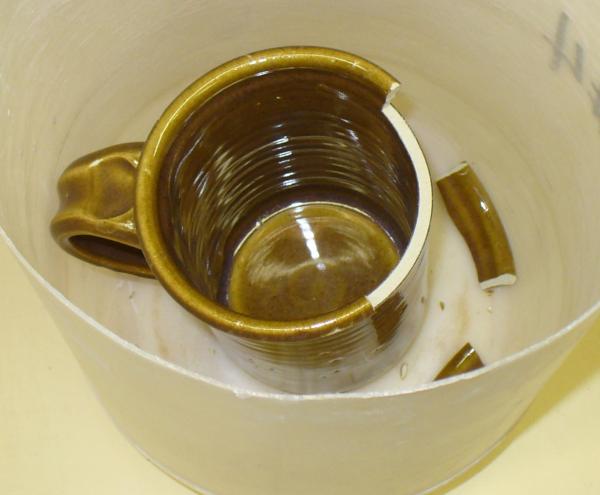 How to make a ceramic time-bomb
This mug is pinging loudly and literally self-destructing in front of my eyes! Why? The glaze is under so much compression (the inside is pushing outward, the outside inward). Spiral cracks are developing all the way up the side. Small razor-sharp flakes are shivering off convex contours. Why? I
... more
Context: Shivering, Glaze fit, Glaze Shivering, Glaze Crazing
Tuesday 15th August 2017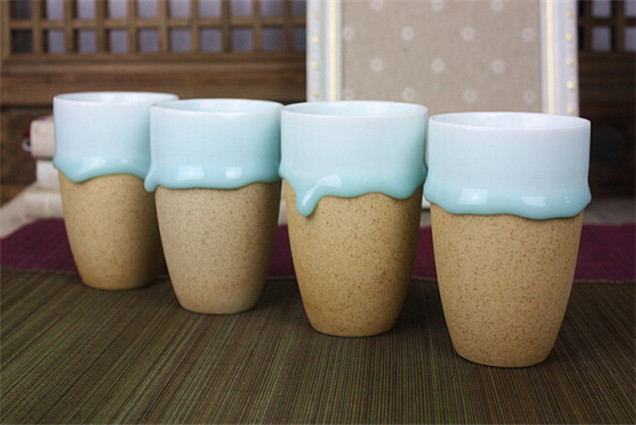 Drip glazing and bare outsides: Deceptively difficult.
Why? Glaze fit. These are available on Aliexpress (as Drip Pottery) and they are made by a manufacturer that has a dilatometer to precisely match the thermal expansion of the glaze with the body. The inside glaze has to fit better than normal because of the absence of an outside glaze. Too low of a
... more
Context: Glaze at 1.7 specific gravity on green-ware. Way too thick!, Deflocculation, Glaze fit, Glaze Compression
Monday 14th August 2017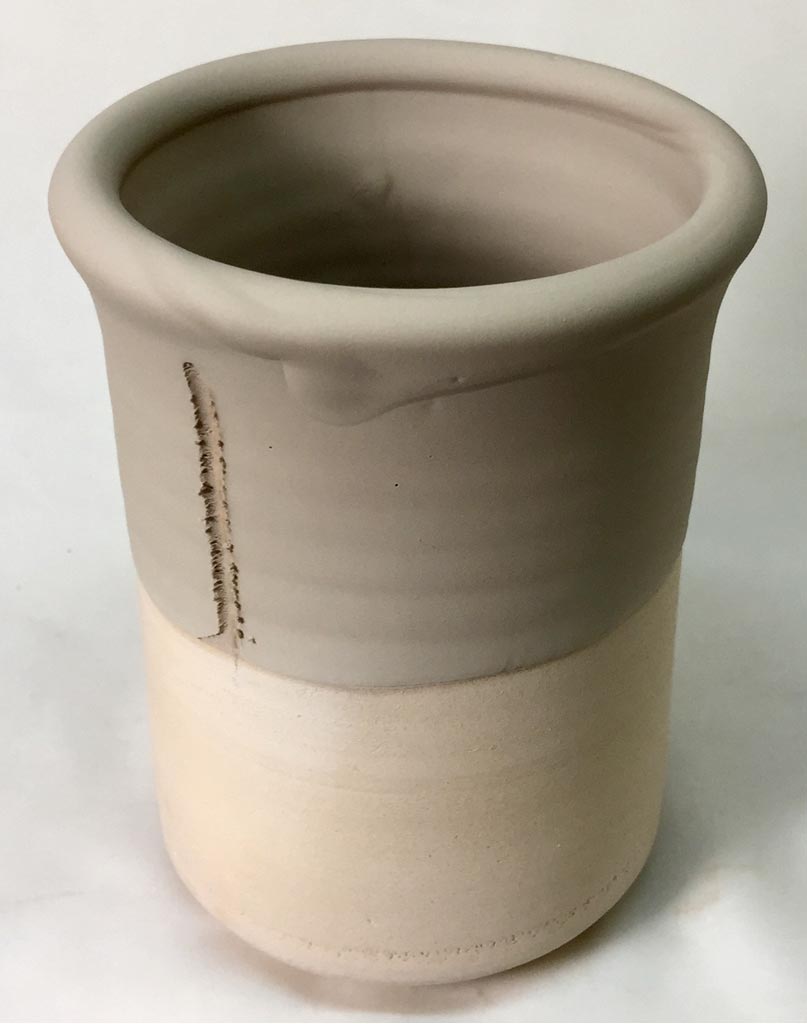 Glaze at 1.7 specific gravity on green-ware. Way too thick!
This is G2926B clear cone 6 glaze deflocculated with Darvan. Because the Darvan is thinning it, 2.5kg of powder is suspended in only 1100 grams of water (half the normal amount). While the slurry in the bucket flows well and appears like it should work, a one-second dip produces twice the desired
... more
Context: G2926B - Cone 6 Whiteware/Porcelain Transparent Base Glaze, Drip glazing and bare outsides: Deceptively difficult., Specific gravity
Monday 14th August 2017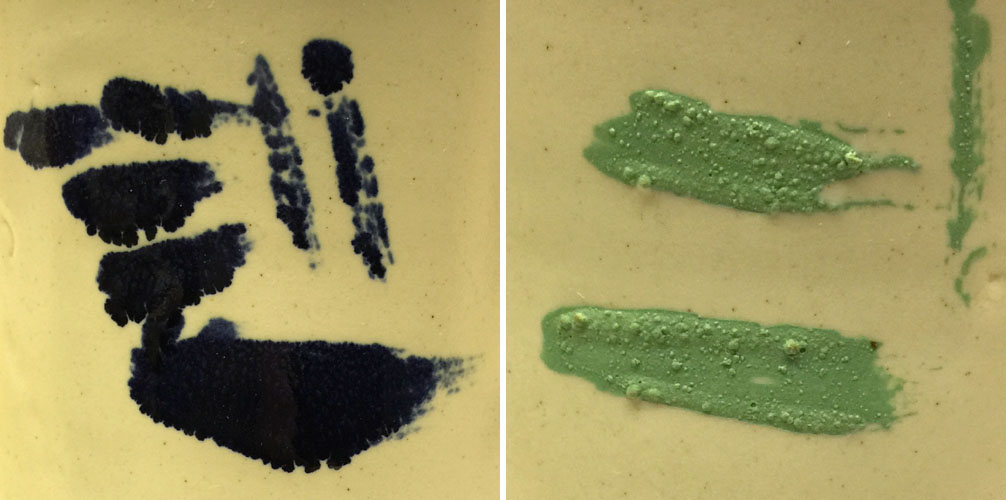 Why you should not paint pure stain powders over glaze
On the left is a blue stain, right is a green. Obviously the blue is melting much better, even bleeding at its edges. On the other hand, the green just sits on the surface as a dry, unmelted layer. For this type of work, stains need to be mixed into a glaze-like recipe of compatible chemistry (a
... more
Context: An Overview of Ceramic Stains, Stain, Overglaze, Glaze Layering, Flux
Saturday 12th August 2017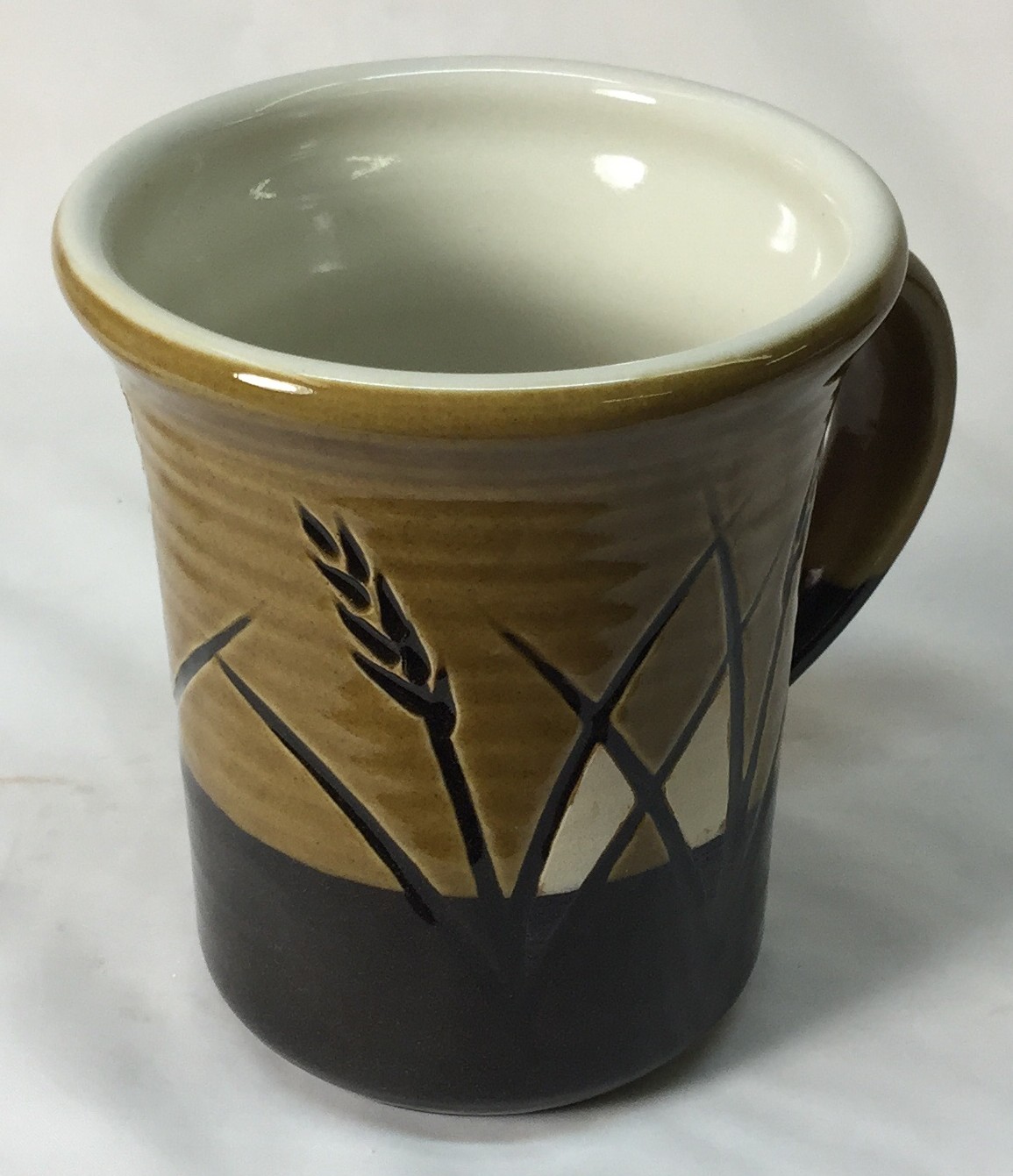 Mug made from a cone 6 black-burning stoneware body
Black burning bodies are popular with many potters. They are normally manufactured by adding around 10% burnt or raw umber to an existing buff-burning cone 6 stoneware. Umbers are powerful colorants, they have high iron and also contain manganese (the latter being the primary source of the color).
... more
Context: Burnt Umber, Raw Umber, L3954B - White Cone 6 Engobe for Plainsman M390, M340, How to Liner-Glaze a Mug, Can you make a black-burning stoneware using black iron oxide?, Manganese Inorganic Compounds Toxicology
Saturday 12th August 2017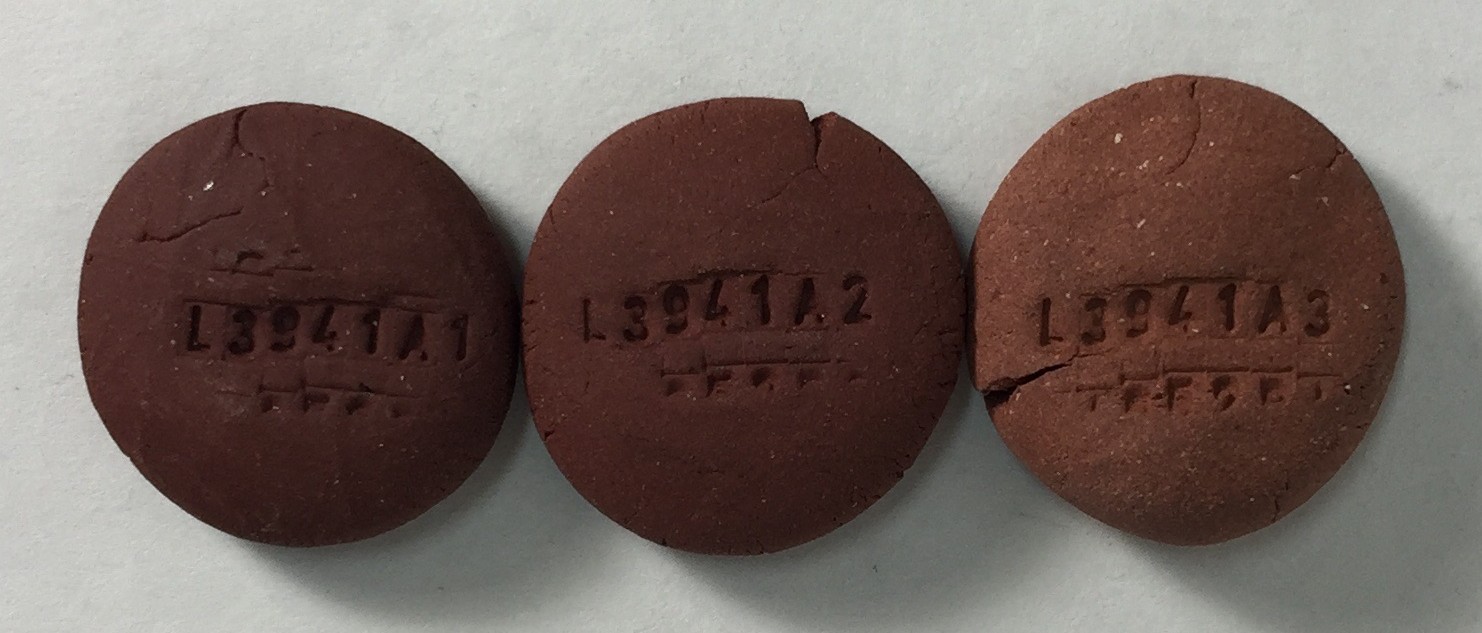 Can you make a black-burning stoneware using black iron oxide?
Iron oxide has been added to a buff burning stoneware clay and samples fired at cone 6. They contain black iron oxide (10%, 5% and 2.5%). Even at 2.5% the raw pugged body is very black and messy to work with. Did they fire black? Or even dark grey? No. We have also tried 20% (mix of black and yellow
... more
Context: Iron Oxide Black, Mug made from a cone 6 black-burning stoneware body
Saturday 12th August 2017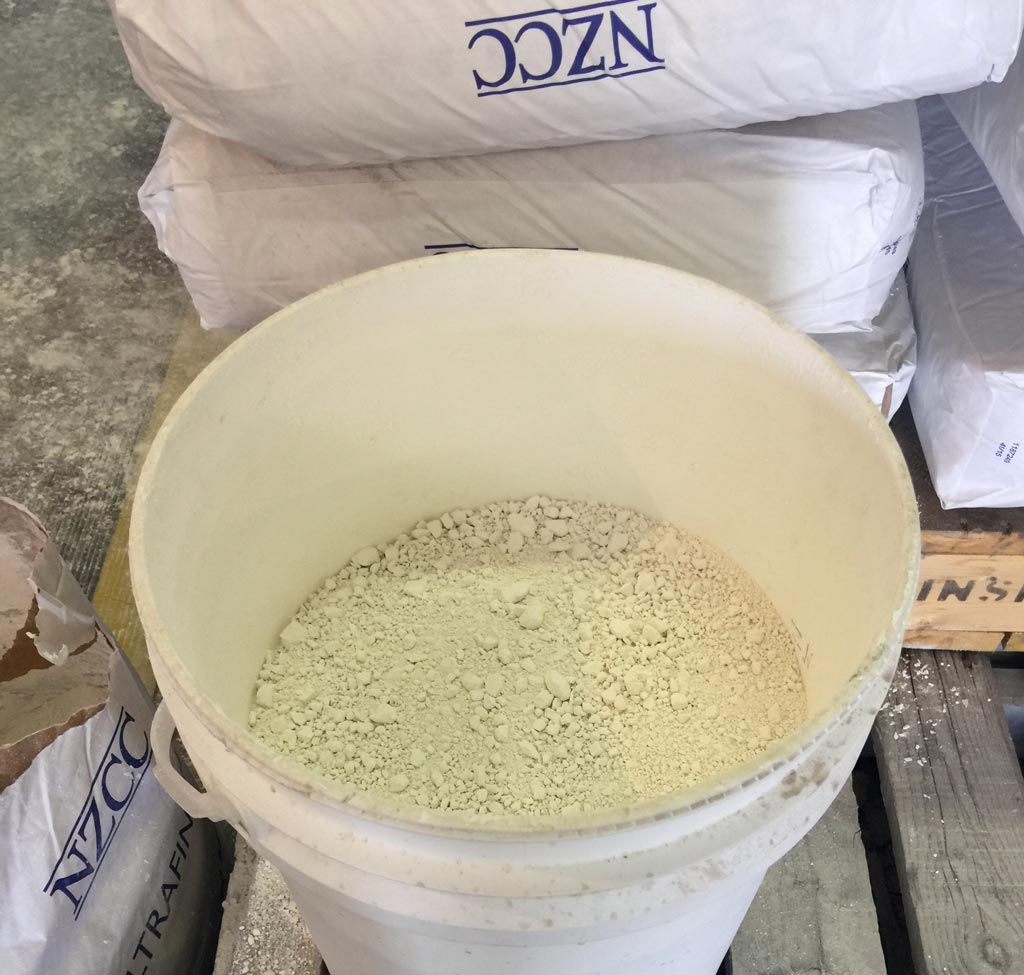 This is how New Zealand kaolin powder agglomerates
These balls are easily broken down by the propeller in a slurry mixer. But they do not break down easily in a dry mixer, even when in a mix with other materials (like silica and feldspar). They just bounce around on a vibrating screen. That means that without some sort of finishing device in the dry
... more
Context: New Zealand Halloysite, Agglomeration
Wednesday 9th August 2017
Login to your online account
Chemistry plus physics. The on-line successor to desktop Insight. Get an account for as little as $15. It does so much more.
Still available for Mac, PC, Linux
Interactive glaze chemistry calculations.
---
How to reach us
From within your account at Insight-Live.com or
What people have said about digitalfire
• Your web site is wonderful. You guys are my knight-in-shinning-armor to slay that dragon. Learned more about glaze chemistry on your web page than in a graduate program at RISD.
• When my group of potters are pressed to improve our glazes they say if the old way is not broken yet why don't you buy yourself some kind of a kit to play with new glazes and then we can make it for everyone. You got to be kidding I say to myself. Anyway, your website will help me help the group out of some old and boring glazes if I can see forward enough. Thanks for all this important info, I can't believe this website is here!
• Your materials database has been the best source of information for me for a long time. Even most of the European frits are in there and this is not true for many books.
• Am finding your website a treasure trove of extremely thoughtful writings for the aspiring more-technical studio potter. Thanks for putting it out there.
• Your website has been very helpful to me over the past several years. I refer fellow potters to it constantly. Your G1214Z matte glaze formed the basis for the glaze used on my tea bowls.
• Great resource!!!
• I have been a teacher of ceramics for twenty years and have always been annoyed with what you call traveling glazes. Tom's Blue, Randy's Red, etc. have been taken from who knows where, are out of context and without history or understanding as you point out.
• I am impressed with your site - it is very comprehensive.
• Firstly, I want to thank you about this very good site in the net which helps very much in the development of the ceramics industry.
• I use Digitalfire almost every day for reference to questions about materials. And as a relative newby to the industry and coming from an art background, my technical knowledge is limited to my own experiences, what I can find online and what is available in books and literature. I just wanted to thank you for all the work you have done for the ceramics community. Your insights and technical knowledge have become indispensable to many in the ceramics community, including me.
To see more (at random) refresh this page