I am the creator of Digitalfire Insight, the Digitalfire Reference Database and Insight-live.com. ... more My posts are like no others, they help you understand your glazes and clay bodies, take control. A master timeline can be seen at Digitalfire.com or visit and like my pages to get a notification each time I post.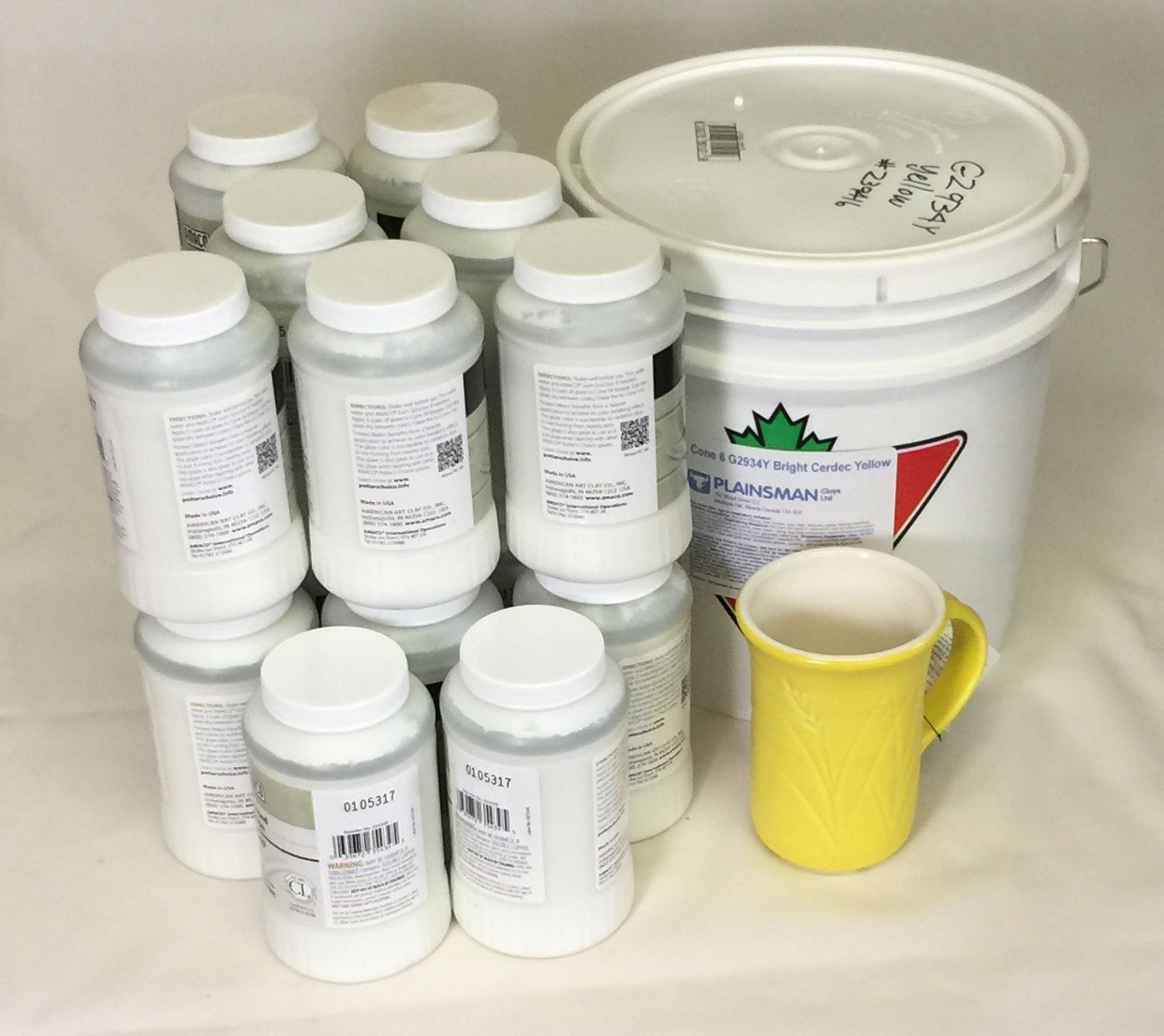 Better to mix your own cover glazes for production?
Yes. In this case the entire outside and inside of the mug need an evenly applied coat of glaze. In production, it would not make sense to attempt this by painting. For these reasons: Cost, quality, convenience. The right pail has 2 gallons of G2934 base with 10% Cerdec yellow stain: $135. Cost of
... more
Context: G2934Y - Cone 6 Magnesia Matte Low LOI Version, G2934 - Matte Glaze Base for Cone 6, Where Do I Start?, Brushing Glazes
Tuesday 17th April 2018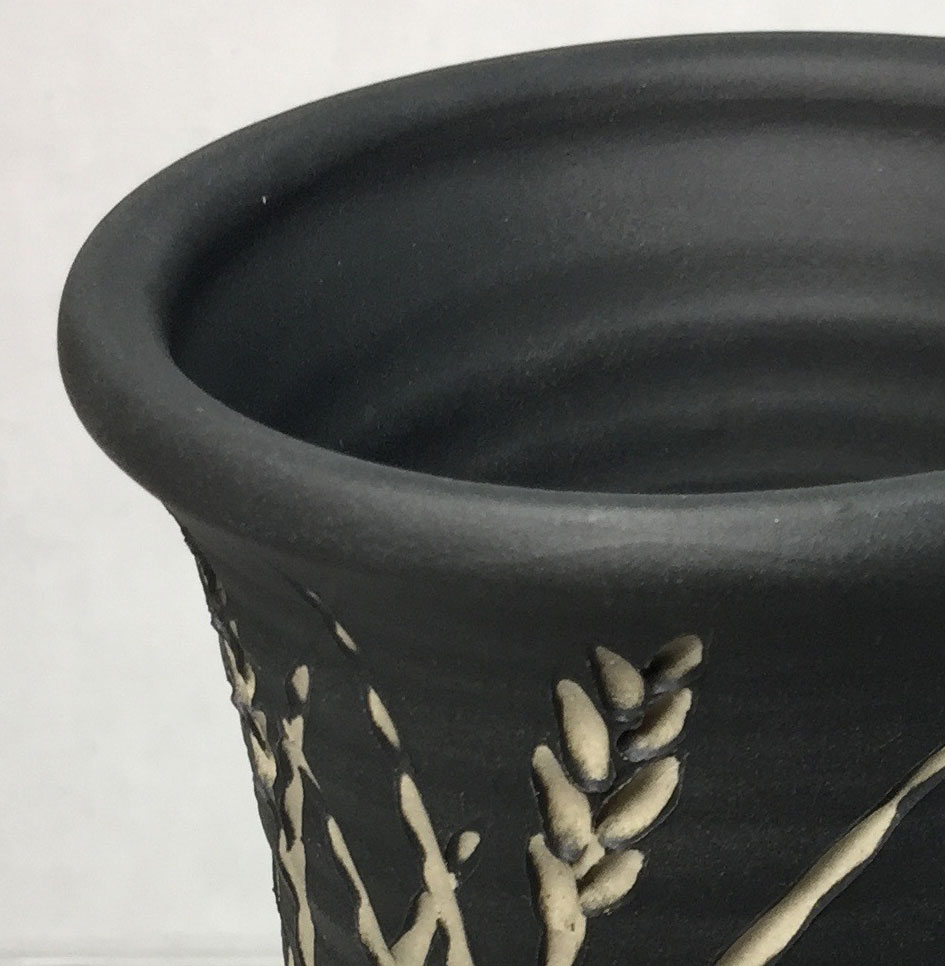 Absolutely jet-black cone 6 engobe on M340
This is the L3954B engobe recipe but it has 15% Mason 6600 black body stain (instead of the normal 10% Zircopax for white). There is no cover glaze, yet it is durable and absolutely coal black (so a lesser stain % is possible). We have updated the mixing instructions at PlainsmanClays.com and
... more
Context: L3954B - White Cone 6 Engobe for Plainsman M390, M340, L3954B engobe page at PlainsmanClays.com, Engobe, Thixotropy
Friday 13th April 2018
Stain-based black engobe is clean to use!
Stains are fired, inert particles of a relatively large ultimate size. Unlike that, raw oxide powders, like iron or manganese, have much finer sizes and are thus extremely dirty to use. This plaster slab is being used to dewater these 15% black engobes for shrinkage testing. The slurry on the right
... more
Thursday 12th April 2018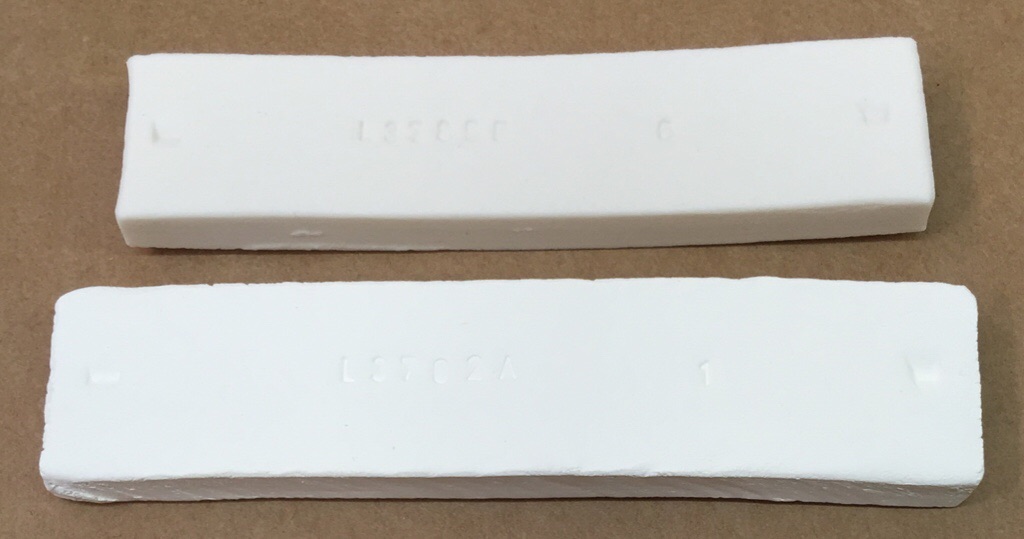 The difference between vitrified and sintered
The top fired bar is a translucent porcelain (made from kaolin, silica and feldspar). It has zero porosity and is very hard and strong at room temperature (because fibrous mullite crystals have developed around the quartz and kaolinite grains and feldspar silicate glass has flowed within to cement
... more
Context: Zircon, Firing: What Happens to Ceramic Ware in a Firing Kiln, Fired Strength, Sinter, sintering, Vitrification, Refractory, Translucency, Primitive Firing
Monday 9th April 2018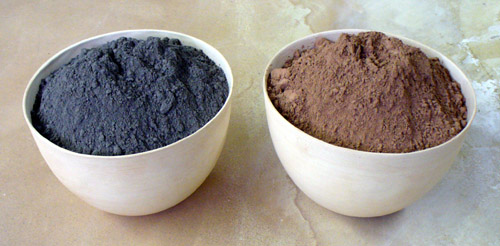 Roasting Alberta Slip at 1000F
Roasted Alberta Slip (right) and raw powder (left). These are thin=walled 5 inch cast bowls, fired to 1000F and held it for 30 minutes. Why calcine? Why 1000F? Because Alberta Slip is a clay, it shrinks on drying. Roasting eliminates that, a 50:50 raw:roast mix works well for most recipes having
... more
Context: Alberta Slip 1900F Calcined, Alberta Slip 1000F Roasted, GA10x-A - Alberta Slip Base for cone 10 oxidation, GA6-A - Alberta Slip Cone 6 Amber Base Glaze, GA6-C - Alberta Slip Rutile Blue Cone 6, GA10-B - Alberta Slip Tenmoku Cone 10R, GA10-D - Alberta Slip Black Cone 10R, GR10-E - Alberta Slip:Ravenscrag Cone 10R Celadon, GA6-D - Alberta Slip Glossy Brown Cone 6, L3341B - Alberta Slip Iron Crystal Cone 10R, GA6-G - Alberta Slip Lithium Brown Cone 6, GA10-A - Alberta Slip Base Cone 10R, GA6-G1 - Alberta Slip Lithium Brown Cone 6 Low Expansion, GA6-A - Alberta Slip Cone 5 Reduction Base Glaze, GA6-F - Alberta Slip Cone 6 Oatmeal, GA6-H - Alberta Slip Cone 6 Black, Calcine, Calcination
Thursday 29th March 2018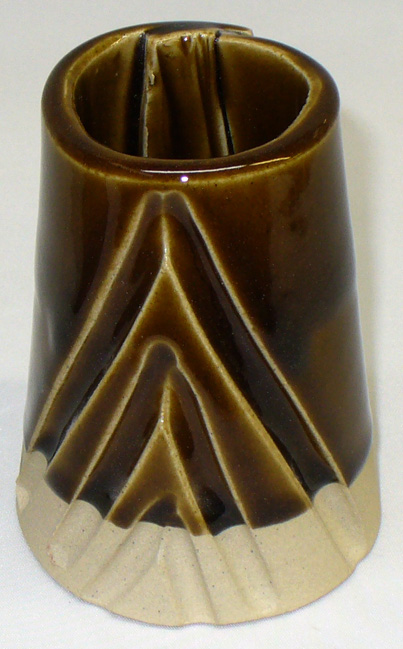 Alberta slip and Ulexite at cone 6
90% Alberta Slip (which is a mix of half and half raw and calcine) and 10% Ulexite fired at cone 6. A dazzling fluid dark amber transparent. You could also do this using a high-boron frit.
Context: Alberta Slip, Ulexite
Wednesday 28th March 2018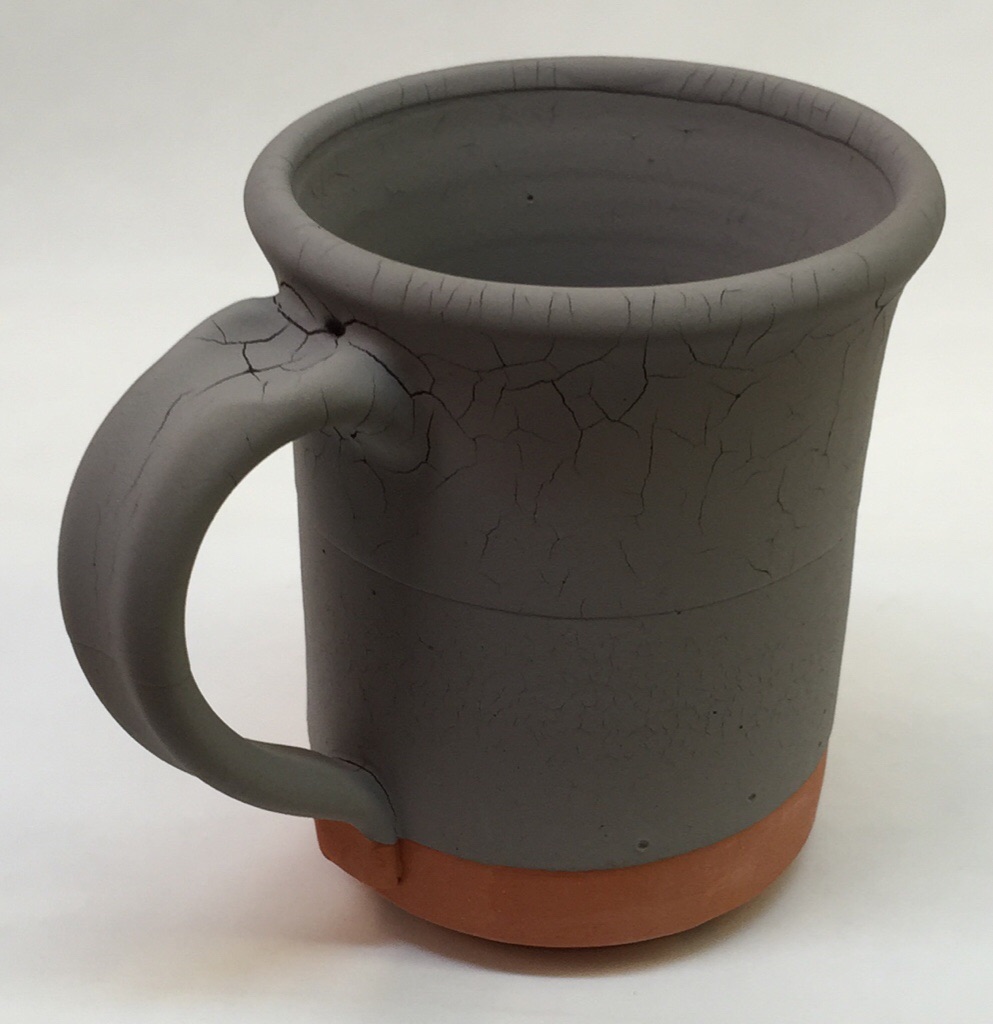 Will this crawl when fired? For sure!
This high-Alberta-Slip glaze is shrinking too much on drying. Thus it is going to crawl during firing. This common issue happens because there is too much plastic clay in the glaze recipe (common with slip glazes). Clay is needed to suspend the other particles, but too much causes the excessive
... more
Context: Ravenscrag Slip, Alberta Slip, Alberta Slip 1900F Calcined, Alberta Slip 1000F Roasted, Crawling, Calcine, Calcination
Wednesday 28th March 2018

The rutile mechanism in glazes
2, 3, 4, 5% rutile added to an 80:20 mix of Alberta Slip:Frit 3134 at cone 6. This variegating mechanism of rutile is well-known among potters. Rutile can be added to many glazes to variegate existing color and opacification. If more rutile is added the surface turns an ugly yellow in a mass of titanium crystals.
Context: Alberta Slip, Rutile, GA6-C - Alberta Slip Rutile Blue Cone 6, Alberta Slip, 20 Years of Substitution for Albany Slip, Rutile Glaze, Glaze Recipes, Mechanism, Reactive Glazes
Wednesday 28th March 2018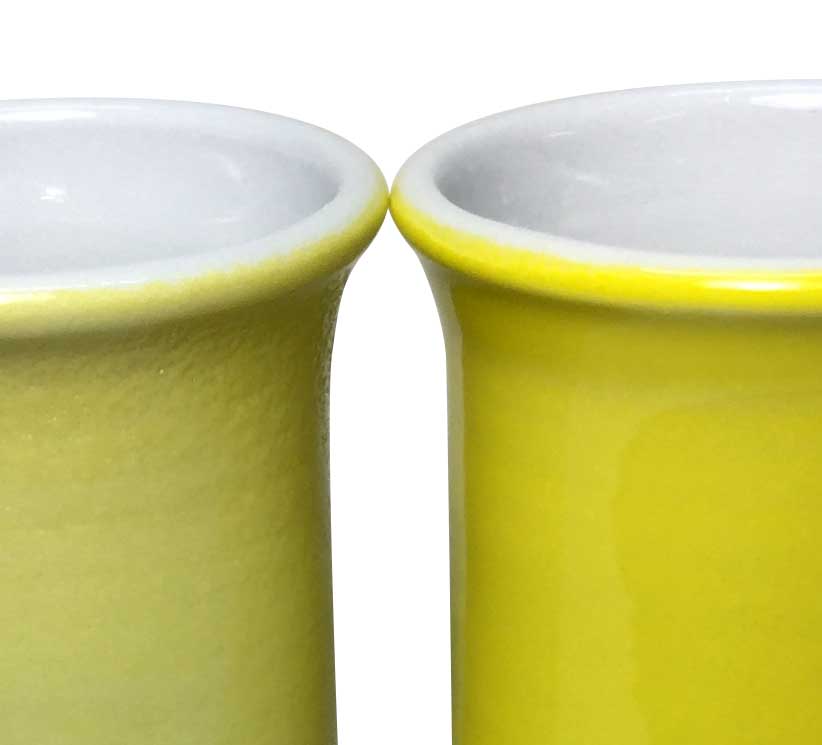 The magic of zircon in de-bubbling a glaze with stain addition
The cone 03 porcelain cup on the left has 10% Cerdec encapsulated stain 239416 in the G2931K clear base. The surface is orange-peeled because the glass is full of micro-bubbles that developed during the firing. Notice that the insides of the cups are crystal-clear, no bubbles. So here they are a
... more
Context: Zircopax, Zircon, Encapsulated Stains, Glaze Bubbles, Dimpling, Orange Peel, Stain
Tuesday 27th March 2018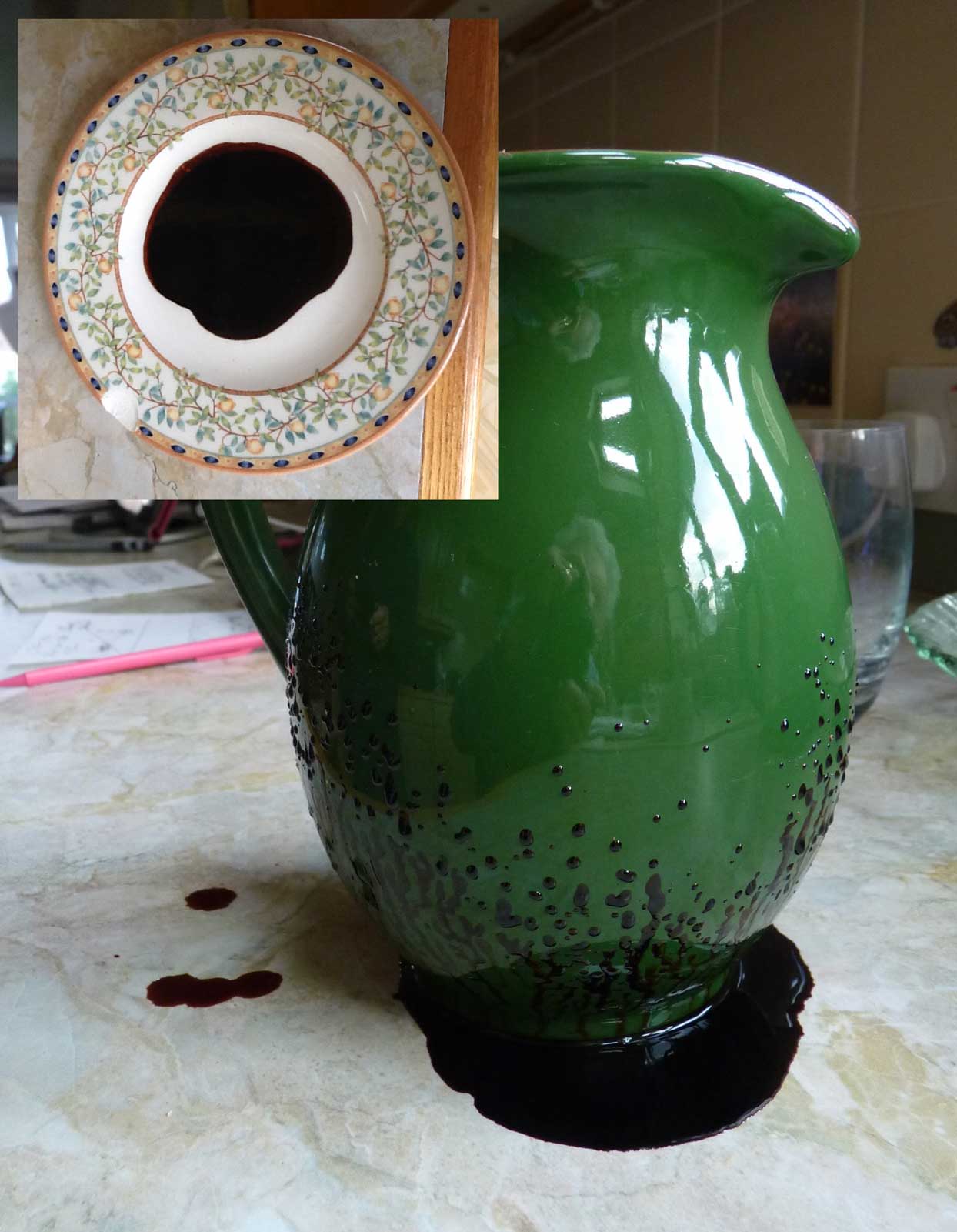 This pitcher is oozing a black goo after water sat in it overnight
Even after two weeks it is still sticky. This was purchased at an import store. What could this black goo be? It is likely a sealer that they use to make the porous clay water tight, perhaps an organic sugar. The clay is porous (and thus also weak) because they want to save energy by firing their
... more
Context: Crazing
Friday 23rd March 2018
Contact Us:
Use the contact pages within or outside your account at Insight-Live.com
---
Login to your online account
Chemistry plus physics. The on-line successor to desktop Insight. Get an account for as little as $15. It does so much more.
Still available for Mac, PC, Linux
Interactive glaze chemistry calculations.
---
What people have said about digitalfire
• Your web is great!
• I have a background in Geology (BS-1973-New Mexico Tech), and with a few other degrees here and there - and have been doing quite a bit of Pythoning, and hanging-around my wife who does (I think (but then, of COURSE I am biased)) terrific pots... I am always interested in what she does with glazes (especially when I see the mineral-names from my Geology days on the bins in her studio... BUT - as an "engineer", sometimes I want 'more' knowledge - and I find your web-site VERY VERY good at that, it tells me a lot of things - gives me 'value added' and 'information' that I haven't found elsewhere! Especially when I think about 'geo-chem'.
• Your website is phenomenal, I love it to get insight on different oxides. I helps me alot, even though we are pretty specialized.
• I found your site while looking up cone 10 glazes on google. I must say, it has been of significant help to me as i recently set up a workshop and am preparing to produce some pottery after 30 yrs. in the construction industry as a superintendent. Thanks for what you've done here...!
• Your advice is always helpful and well thought out.
• Your materials database has been the best source of information for me for a long time. Even most of the European frits are in there and this is not true for many books.
• 'we have been using the arabia blue and white variation of the 5X20 cone 6 glaze, and have had a great response from our customers. Thanks for your efforts - you have made a believer out of me!"
Click here
to see all 191
What people have said about Insight-Live
• Thanks for doing the timeline. I've told you before but it never hurts to say it again, this is great stuff and I get so much info from your posts. Extremely valuable!
• I have been following your Site and posts continually and gained a greater understanding. Thank you for that. It is so exciting to have a positive outcome from your glazes rather then the bought glazes. ... All good and exciting. My pottery clients are excited and have recognized the difference. There is nothing better than to pass on the best work possible to those who love the pots. So much work and testing, but well worth it. Thank you so much.
• Please know that your work is really benefiting me in my work. I really was helped by your information about drop and soak at cone 6. I've had trouble with an otherwise beautiful glaze which develops blisters. Thanks for your 'Insight!'
• I have learned alot from you.
• You are a real gem, your work really help me a lot.
• Thank you so much for this wonderful resource you have created! I have found all of the information in the Digital Fire database as well as Insight to be incredibly helpful tools in the ceramic world.
• I'm glad I was of some small service. Your whole venture is a marvel. All the best as we go forward.
Click here
to see all 91